News / Company
Krustagroup participates in the CEPESCA Journalism Awards
The argentinean red shrimp and the KrustaGroup's scarlet shrimp, protagonists in the cocktail at the awards ceremony of the third edition of the Spanish Journalism and Fishing Sector Awards, celebrated in the Ministry of Agriculture…
The award ceremony of the 3rd Spanish Journalism and Fishing Sector Awards, organized by the Spanish Fishing Confederation (CEPESCA), concluded with a tasting cocktail in which all the guests could taste the Argentinean red shrimp and the scarlet shrimp from Krustagroup (Amasua Group), two of the great delicacies that were received by the guests with great enthusiasm and consideration.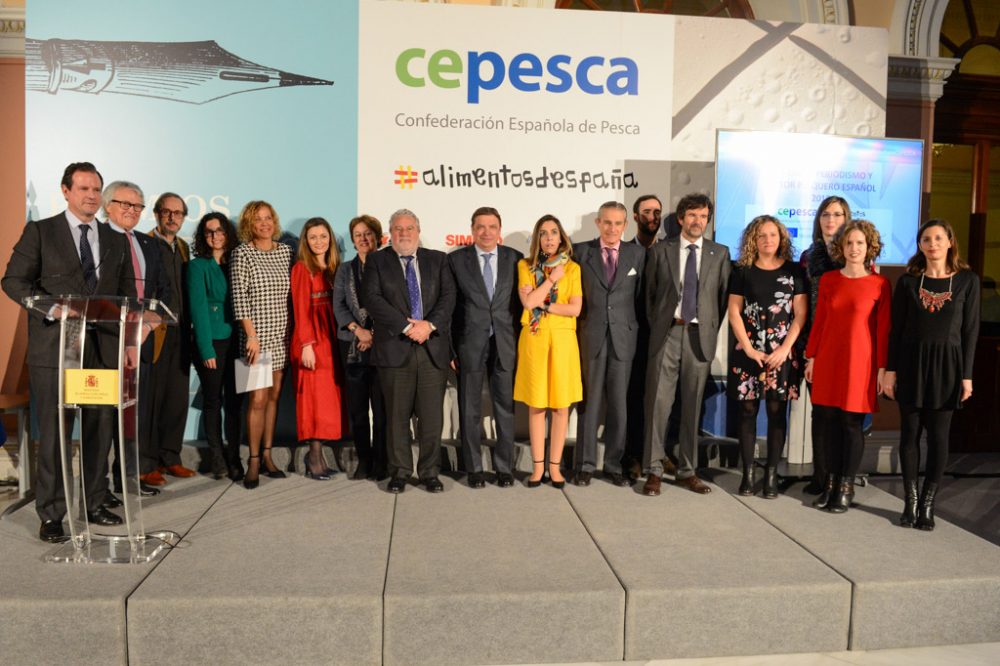 The Minister of Agriculture, Fisheries and Food, Luis Planas Puchades, surrounded by the winners and members of CEPESCA at the awards ceremony.
The Confederation, chaired by the president of Krustagroup, Amador Suárez, wanted to recognize one more year the informative rigor and the work of the media in the diffusion of fishing and the fishing industry. The work of Vocento and the Onda Agraria program, of Onda Cero, was recognized for its excellent coverage of events in the sector. Likewise, during the award ceremony held at the Ministry of Food, Fisheries and Agriculture, Jesús Antonio Cañas, from El País, also won the prize for the best article on the Spanish fishing sector for his work El linaje del atún rojo de almadraba and Josefina Maestre, from the publication Aves y Naturaleza, for the best article about sustainability and environment in fishing by La bióloga y el pescador.
Finally, this edition had one more recognition to the best photography of the fishing activity, which fell in the hands of Juan Carlos Toro for an image published in El País within the report La última jornada de pesca en aguas marroquíes.