We are Krustagroup, your global partner of seafood. We present our products for the retail distribution channel such as wholesalers, supermarket chains with their own distribution centers, large and medium-sized stores, as well as bulk sales. 
Say goodbye to supply chain hiccups, service glitches, and product quality concerns—because at Krustagroup we're passionate about redefining the experience with our clients. Our Sales Representatives are here to create and recommend custom commercial programs that not only connect distant fishing grounds with worldwide demand, but also establish a reputation for dependability and superiority in the industry.
Discover our
Grand Krust range for the retail channel
With more than 50 years in the fishing industry, we have established ourselves as one of the main manufacturers, distributors and marketers of frozen seafood for the different types of retail channels.
Through our GRAND KRUST range, we provide not only expertise and a fervent dedication to fishing, but also unwavering commitment to product quality, innovation and, above all, respect for the sea.
Our service is built on delivering solutions and ensuring a reliable supply chain, tailored to suit any business model within the retail distribution landscape.
"Your global shrimp partner for the retail channel"
Frozen Fish and Seafood
for Supermarkets
At Krustagroup you will find the best selection of southern shrimp or Argentine shrimp for hypermarkets and supermarkets distributors. Our range features retail packaging starting from 180g and extends to bulk orders, ensuring flexibility to meet your client needs. 
Sourced from sustainable wild fishing practices, our seafood has a characteristic delicious flavor and a smooth texture, making the southern shrimp a very popular option among consumers.
The different packaging choices we offer have made this product a top seller in the main stores where we distribute to retailers. 
Its amazing taste and quality are what more and more customers are looking for every day in supermarkets and stores.
GrandKrust
Raw shrimp tail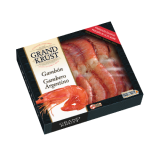 800g
GrandKrust
Raw shrimp tail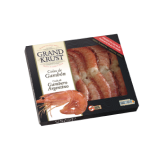 300g
GrandKrust
Raw shrimp tail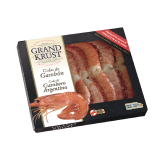 400g
GrandKrust
Raw whole shrimp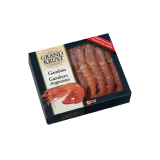 300g
Our range of products
for retail distribution
In our lineup of Grand Krust Classic products, we present a variety of premium frozen shellfish, including Southern shrimp, available in various presentations.
From whole shrimp and shrimp tails to raw wild Norway lobster and tiger prawns, these options are particularly favored within the retail channel by consumers.
Grand Krust
The Wild Taste
Through this product range, we provide the retail sector with top-quality wild seafood sourced from the open seas, delivered directly to consumers.
The diverse packaging choices we offer have propelled this product to become a best-seller among our key distribution channels for retailers, as customers increasingly seek out its exceptional taste and quality in hypermarkets and stores. 
Grand Krust
The Mediterranean Taste
Undoubtedly, our "Mediterranean Flavor" range has stands as the top choice among products in Spain's leading supermarkets, boasting an impressive consumer satisfaction rate of 80-90%.
With its competitive price, widespread availability, and attractive presentation, this selection caters to the daily requirements of customers while upholding the distinct touch of Mediterranean flavor that defines us.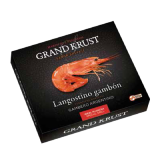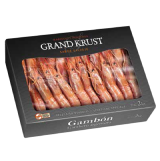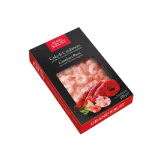 Raw peeled shrimp tails
200g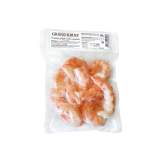 Peeled and deveined shrimp tails
180g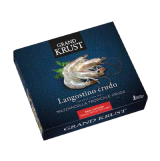 Raw whole raw vannamei shrimp
720g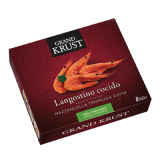 Whole cooked vannamei prawns
720g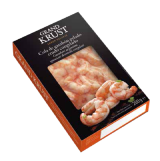 Raw peeled shrimp tail tail Tail-Off
200g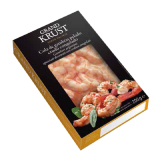 Raw peeled raw shrimp tail Tail-On
200g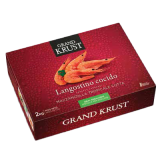 Whole cooked vannamei prawns
2Kg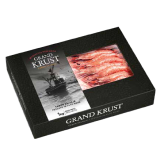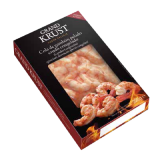 Raw peeled butterfly shrimp tails
200g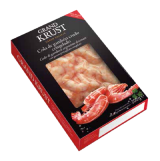 Shrimp tail
raw easy peeled
200g
Our pricing, accessibility, and presentation effectively address all the everyday requirements of our customers, preserving the distinctive flavor that defines our brand.
Why trust KrustaGroup

and its dedicated channel for seafood retailers?
As a worldwide distributor of frozen seafood and fish, we recognize the significance of delivering high-quality products to both our valued customers and partners.
Access now to our exclusive channel for Food Service distributors
Quality and Sustainable Seafood for any business model
At KrustaGroup we work directly with producers, guaranteeing the freshness and quality of our seafood and fish at all times. Our dedicated channel for retailers and wholesalers facilitates swift and efficient product acquisition for supermarkets and stores, ensuring the highest customer satisfaction.

Our commitment to sustainable fishing practices ensures that species are harvested from well-managed fishing areas and that selective techniques are employed, minimizing the impact on the environment and its biodiversity.
Reliable Retail Sales KPIs
As a distributor of retail seafood and fish, we deeply understand the significance of sales KPIs in shaping business strategies. That's why we ensure our products consistently uphold the standards of quality, freshness, and flavor that customers anticipate.
Furthermore, our dedicated retailer-exclusive channel assures swift and efficient product delivery, contributing to increased inventory turnover and elevated sales KPIs within sizable stores.
Leaders in Logistics and Product Processing
We sell more than 18,000 tons of shellfish per year. Also, our Huelva factory possesses the capability to process up to 50,000 kg of shellfish daily. 

At Krustagrup we cover all stages of the seafood value chain, effectively reaching major stores and supermarkets throughout the country.
Social commitment and responsibility towards the industry
In our dedication to provide high-quality products for the retail sector while upholding  environmental respect, we harness the authentic flavor and texture of wild seafood and fish. 

By choosing our products, you can be sure that your customers are not only enjoying exceptional taste, but also supporting responsible  fishing practices—an ever-growing preference among conscious consumers who seek sustainability.
We cover all stages of the value chain
We are the first seafood company in Spain to achieve the

IFS Logistics certificate"